Festival Merchandise
Please visit the individual shops to purchase…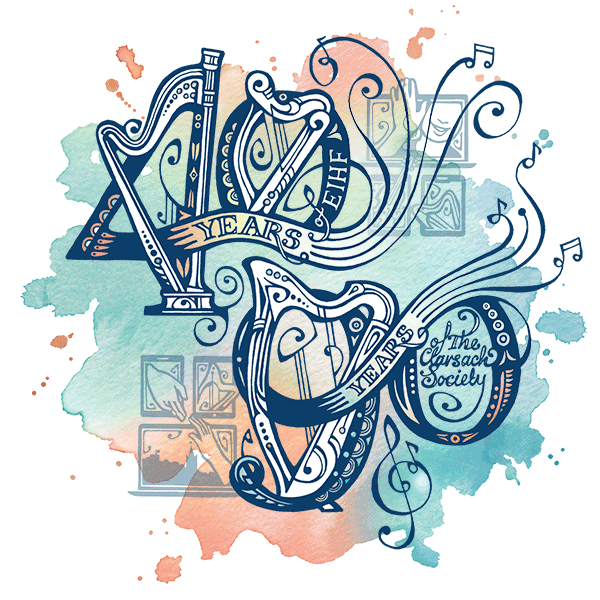 40 / 90 Tea Towel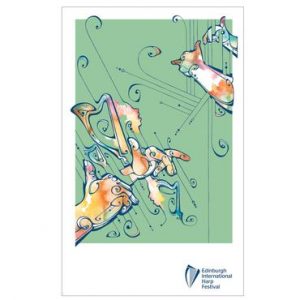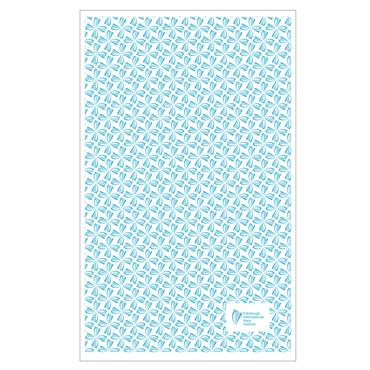 Nothing says 'festival' more than a commemorative tea towel.
40 / 90 Folio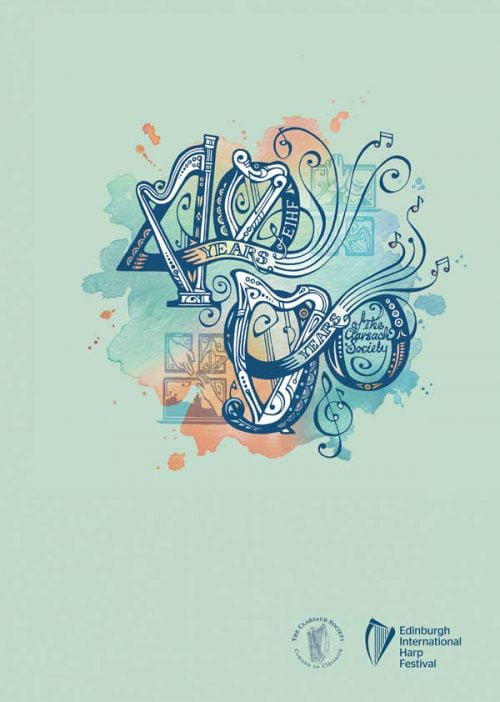 A gorgeous new collection of 22 tunes, to mark the 40th EIHF and the 90th anniversary of The Clarsach Society.
---
Harp Crafts & Gifts
---
Driftwood Harp
The individual handmade porcelain and ceramic jewellery pieces are inspired by Helen's travels around Britain and reflect the traditional and often colourful architecture found in coastal towns and villages. 
Read more…

She has a long association with the Edinburgh International Harp Festival, first visiting with her two daughters when they first started learning to play as teenagers and more recently selling her porcelain jewellery. As "Driftwood Harp", Helen creates jewellery in her studio in Kilcreggan, overlooking the River Clyde on the West coast of Scotland.

For these special 40th anniversary pieces, Helen took her inspiration from a painting called Driftwood Harp, by Elizabeth Lorimer of Knapdale and through her love of Charles Rennie Mackintosh's Hill House where she lived for a period in the 1980s.
Jenni Douglas
Jenni Douglas is an artist and designer, based in the Midlothian countryside on the outskirts of Edinburgh. To celebrate the 2021 Festival she has created her 'Ascend' pattern based on a harp dove design.
Read more…

Jenni launched her brand in 2011 and now sells her work worldwide through independent shops, galleries and at exhibitions and events. She has created bespoke product collections for clients including National Museums Scotland, The Scottish Parliament, Glennmorangie and Creative Scotland and The Edinburgh International Harp Festival!

Jenni has been teaching printmaking in workshop settings since 2013 and is passionate about running programmes which are accessible, affordable and which have an emphasis on building confidence and supporting mental health. Since 2016, Jenni has also worked with Creative Edinburgh as an artist mentor.

Jenni shares her studio with a spirited Siberian forest cat and a mischievous labrador pup.
MB Bespoke Glass
Maureen Brand, founder and owner of MB Bespoke Glass, is passionate about the art of creating and restoring items made with art glass.   She is based near the beautiful Gunknowe Loch, Tweedbank in The Scottish Borders.
Read more…

What began as a hobby has now developed into a thriving business in a fully functional workshop and studio where Maureen handcrafts beautiful individual products. Having a keen interest in the natural world inspires Maureen when choosing a design to work on and this is noticeable when browsing her portfolio. She uses different types of art glass to bring her subject to life, so that colours glow and reflect, taking on a different profile in differing lights.

Maureen frequently shares her knowledge by holding demonstrations and beginners workshops.