The 40 / 90 Anniversary Folio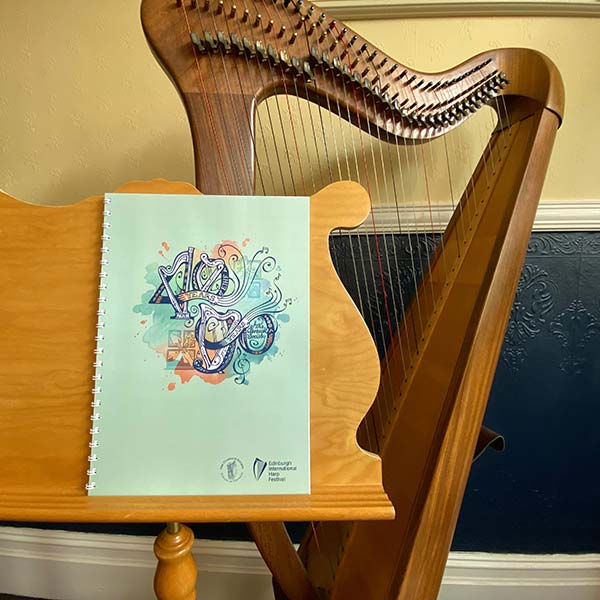 We are proud to present to you a gorgeous new collection of 22 tunes, to mark the 40th Edinburgh International Harp Festival and the 90th anniversary of The Clarsach Society. Original compositions and arrangements of classic tunes by long-standing friends of both Society and Festival, with exquisite artwork by Festival designer, Jenny Proudfoot.
You can order it NOW (to be sent out after it's expected publication date of 6th April) from our good friend Tim at Creighton's Collection and you'll also soon be able to order it from the merchandise page on this website.
Here's a list of the beautiful music that will be in it:
FLOWER OF LOVE – James Gray
KATE GRAY – Isobel Mieras
FAREWELL TO NIGG – Duncan Johnstone, arr. Cheyenne Brown
MARRY ME NOW – Trad. arr. Sìleas
TRANSITION – Jennifer Port
AN T-IARLA DIÙRACH (THE EARL OF JURA) – Trad. arr Charlotte Petersen
WHO'S FOR BUBBLY? – Corrina Hewat
BRENDA'S ABBEY – Maeve Gilchrist
LOOKING AT A RAINBOW THROUGH A DIRTY WINDOW – Calum Stewartt, arr. Rachel Hair
THE COFFEE CUP – Màiri Macleod
DREAMING ON DEESIDE – Irene Watt
JANE'S AIR – Ailie Robertson
CAERLAVEROCK – Wendy Stewart
WALTZ FOR PARIS – Fiona Rutherford
MOVING CLOUDS – Eira Lynn Jones
HAGGISICITY – Park Stickney
(UNTITLED JIG) DUET Highland Vocal Airs – Patrick McDonald arr. Bill Taylor
THE HILLS OF LORNE – Charlie Hunter, arr.Ingrid Henderson
DR MACMAHON, BISHOP OF CLOGHER – Turlough O'Carolan, arr. Elinor Evans
WITH HER DOG AND HER GUN – Trad. (Petrie Collection) arr. Laoise Kelly
SCARCE O' TATTIES – Heather Yule
CHERRY TREES AT MERCHISTON – Isobel Mieras