EIHF Artist / Tutor announcements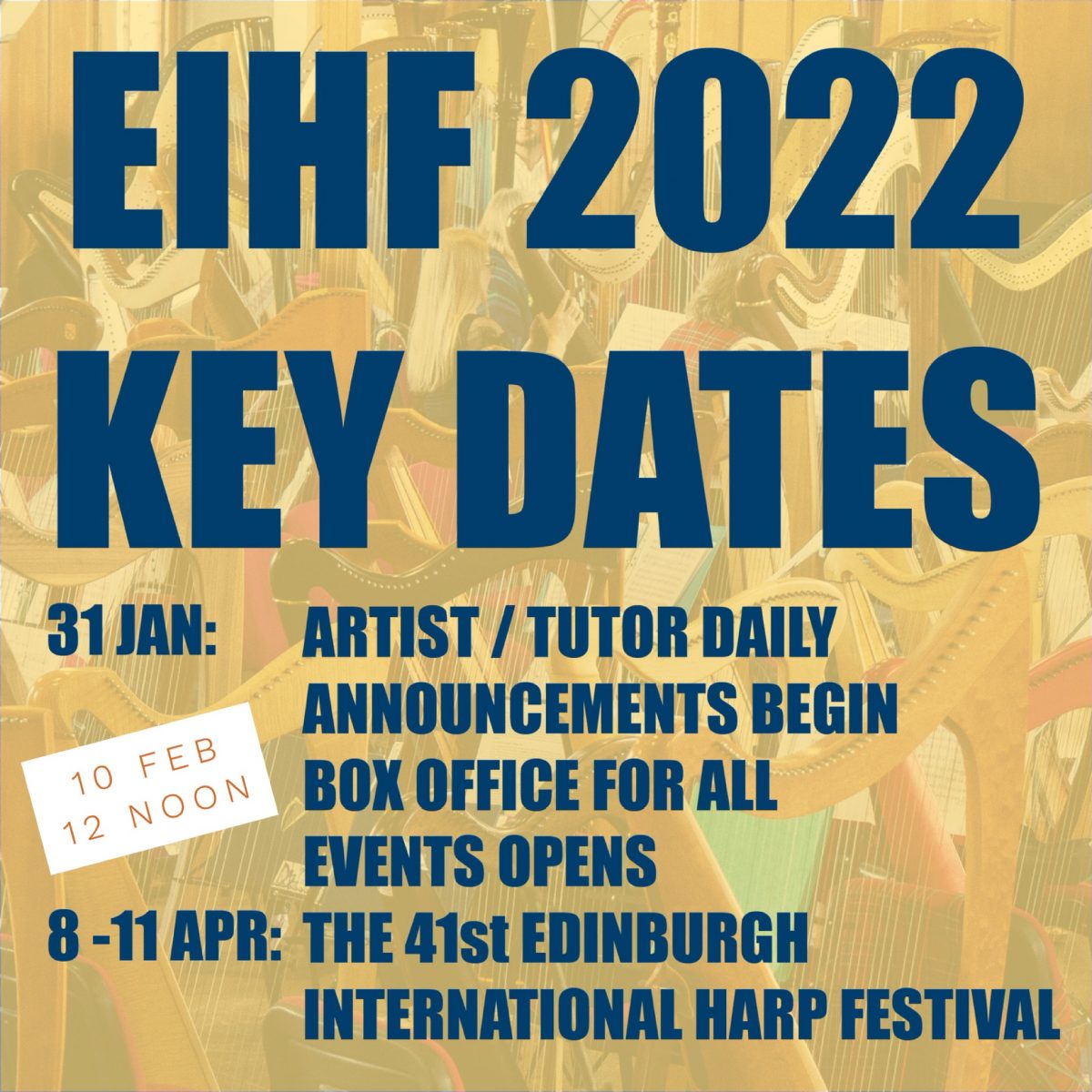 This year's festival will be hybrid with separate in-person and online zoom courses, in-person/filmed workshops and in-person/filmed concerts.
We'll be updating this post daily from Monday the 31st January with who you can expect to see performing and tutoring at the festival!

KEY DATES:
Monday 31st Jan: We begin our daily announcements letting you know the fantastic artists and tutors who will be appearing at this years festival – check back here to see who the latest is!
Thursday 10th February: Our box office will open for all in-person and on demand EIHF '22 events.
Friday 8th- 11th April: The 41st Edinburgh International Harp Festival.Iin-person at George Watson's College, Edinburgh and online to the world. 
OUR LIST SO FAR….
SAVOURNA STEVENSON & STEVE KETTLEY (Scotland) – Performing as a duo on harp and sax.
TRISTAN LE GOVIC (Brittany) – Breton harp
CORRINA HEWAT'S "THE SONG of the OAK and the IVY" – another chance to hear the EIHF (2010) 80th/30th Festival commission), composed by Corrina Hewat and performed live by Corrina, Bill Taylor, Heather Downie, Tristan le Govic, Mary Macmaster and Wendy Stewart.
WENDY STEWART (Scotland) – Solo harp/voice
CALUM & MÀIRI MACLEOD (Scotland) – Brother & sister duo
MAEVE GILCHRIST (Scotland/USA) – with a *NEW* commission celebrating the 40/90 joint anniversary of The Clarsach Society and the EIHF
GABRIELLA DALL'OLIO (Italy/England) – Pedal harp
FRAYA THOMSEN (Scotland) – Winner of the 2021 Princess Margaret of the Isles Prize for Senior Clarsach
TRANSATLANTIC HOT CLUB (Wales/US) – Jazz trio with Ben Creighton Griffiths on Harp, Adrien Chevalier on Violin and Ashley John Long on Bass.
A NEW GENERATION: ROMY WYMER (Netherlands), PHOENIX ZHANG (Scotland), STEPHANIE HUMPHREYS (Scotland)
CORMAC DE BARRA (Ireland) – Irish Harp
SIOBHÀN ARMSTRONG (Ireland) with the Donegal singer DOIMNIC MAC GIOLLA BRÍDE
Our EIHF 2022 tutors are:
Adrien Chevallier
Ben Creighton Griffiths
Bill Taylor
Cheyenne Brown
Cormac de Barra
Corrina Hewat
Doimnic Mac Giolla Bride
Elinor Evans
Fraya Thomsen
Gabriella Dall'Olio
Gillian Fleetwood
Heather Downie
Heather Yule
Isobel Mieras
Neil Wood
Rachel Hair
Savourna Stevenson
Siobhan Armstrong
Tristan Le Govic
Wendy Stewart