BLOG: Meet the newest member of the EIHF team…
'Hello! My name is Neil Wood, I'm a Scottish traditional harper from a wee village aptly named Neilston, just outside Glasgow.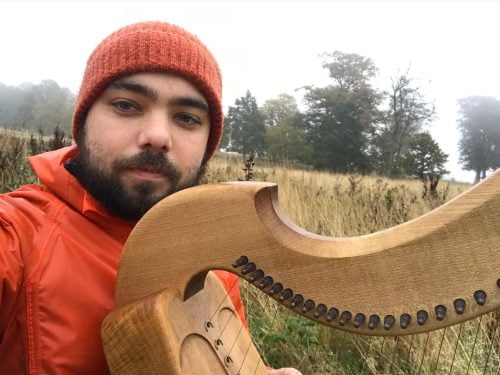 I began playing the harp at the age of 7 and have attended the festival pretty much every year since then. Lots of my harping firsts have been at the festival: I had my first taste of teaching as a teenager while helping in a children's beginner class, ordered my first harp at the makers exhibition, played one of my first ever public performances on the open stage, met most of those who have taught me over the years for the first at the festival and most of all have had some of my most inspiring and exciting moments of harpiness at EIHF!
I first became officially involved with the festival on a work placement through the Royal Conservatoire of Scotland, where I studied a BMus Traditional Music (Scottish Harp). I then volunteered at the festival every year after that.
After I graduated I became a full-time harper. I perform on both gut and wire-strung and do lots of research and education work. I'm the founder of The Folks' Music Project CIC, a Social Enterprise which delivers low and no cost traditional tuition and activities for people of all ages in community across Greater Glasgow – we have several community harp programmes! I'm also currently back at RCS studying towards a PhD exploring incorporation of fingernail techniques into contemporary Scottish harp playing.
Last year I had the pleasure of teaching my first ever course at the festival which explored at ornamentation – both in-person and online! Between teaching, I spent last festival running around helping the wonderful organising committee team and I must have been of some use because I was then asked if I would join the committee! This year I have been learning the ropes in the shadows of the all-star, organisational powerhouse that is the EIHF committee and there is A LOT to learn. I had no idea of the year's worth of planning that goes into a festival that happens over a long weekend.

I have taken on the role of outreach coordinator for the festival – something which I am deeply passionate about. This year's focus is on young people and trying to improve the general visibility and accessibility of the festival. Moving forward I hope to work towards encouraging and enabling people from people different socioeconomic backgrounds to engage with the harp in Scotland through EIHF and I hope to act as a role model for young male harpers to take-up and continue with the instrument.
I'm super excited to be both performing and teaching at this year's festival, sharing my research work. Hope to see you there!'